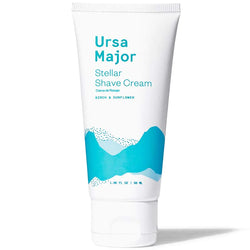 Ursa Major Stellar Shave Cream
This concentrated, non-lathering shave cream minimizes nicks, cushions against razor burn and naturally nourishes your skin. The sublime texture, robust natural aroma and extraordinary performance will leave you craving your next shave. Perfect for legs, face or wherever you need a close shave. 
 No petrochemicals, SLS, SLES, parabens, synthetic fragrance or color, glycols, silicones or PEGs.
5 OZ bottle