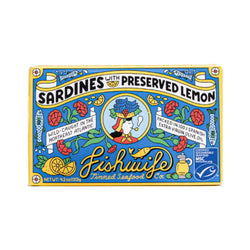 Sardines With Preserved Lemon
Say hello to Sardines with Preserved Lemon 🍋! Our Sardines are hand-packed in Galicia, Spain with the highest quality ingredients for the freshest taste imaginable.

Our Sardines are:

✨ Responsibly wild-caught off the coast of Cornwall, England in the only MSC-certified sustainable sardine fishery in Europe.

✨ Hand-packed using traditional methods with Spanish extra virgin olive oil.