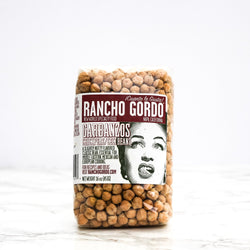 Rancho Gordo Garbanzo (Chickpea) Bean
Garbanzo's are a classic for hummus and often used as a key ingredients in a green salad, but they're also great in soups too. This is a slightly nutty flavored classic bean essential for Middle Eastern, Mexican and European cooking.  This new crop harvest ensures quicker cooking and fresher flavor.
16oz/1lb
Rancho Gordo beans by Steve Sando are kinda a big deal.  It started as a hobby of growing heirloom beans and figuring out different ways to cook them and quickly led to farmer's markets.  When the people started loving all the varieties he grew, as much as Steve did, he knew he was onto something good.