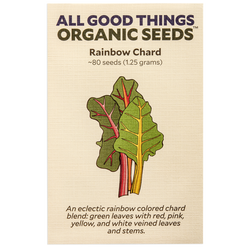 Rainbow (Beta vulgaris) is our own blend of red, pink, white, and yellow chards. Each color in this mix has its own uniqueness, with subtle flavor and texture differences. Chard is easy to grow and performs well year round in milder winter climates, but it's an especially appropriate summertime green where temperatures turn other leafy greens like kale and collards bitter. Plants have an upright growth habit makes for easy harvesting, especially for braising mixes. Rainbow is sure to add color to your garden or farm community supported agriculture shares.
30 days baby leaf, 60 days full size. Biennial.
~80 seeds per packet.