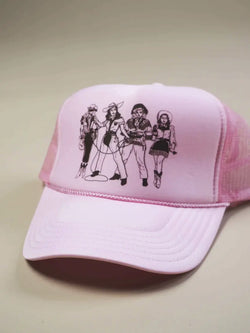 Get ready for the rootin-tootinest Girl Gang this side of the Mississippi! These gals harken back to the days when the West was young, and a gal's horse was her best friend. 
How to wear it: This classic trucker pairs amazing with ANYTHING! 
About: Intrigue Ink is a unique Bozeman boutique that specializes in screenprinting apparel in-house. We conceptualize, design, and print each design and embrace the handmade feel of our products. We offer cool and functional clothing that makes women feel powerful and stylish. Whether you're visiting Bozeman or are a Montana Local shopping for handmade gifts, you've gotta stop by to check out our ever-fresh selection of apparel, art, jewelry, and homewares. Happy shopping!