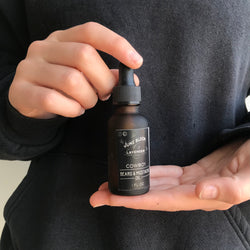 Cowboy Beard and Mustache Oil
Made with nourishing and conditioning cold-pressed Jojoba, Avocado and Vitamin E oils and scented with 100% pure essential oils:  Sandalwood, Lavender, Vanilla. 
Absolutely no synthetic fragrances. This oil is also nurturing for the skin.  It's aroma is a masculine cowboy with a tad of resilient lavender and sweet vanilla -- think of it as a handsome cowboy, tipping his hat to a pretty lady.