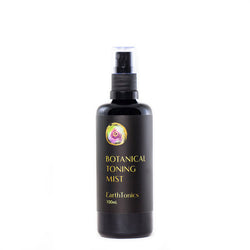 Earthtonics Botanical Toning Mist is an aromatic blend that drenches thirsty skin in softening botanical hydrosol, the therapeutic steam that sweats from a plant in the distillation process. About 30 times more potent than an herbal tea, this liquid is the plant's essence, carrying a rich spectrum of medicinal properties.
This tonic blends together Rose, Tulsi and Orange Blossom hydrosols, enhanced with antioxidant-rich Chaga Mushroom and Bilberry to brighten and impart a dewy, petal-soft glow.
*D I R E C T I O N S:
Mist face, neck and chest liberally after cleansing and throughout the day (even over makeup) to refresh and fortify the skin & spirit.
*A L L    I N G R E D I E N T S:
Orange Blossom*, Rose*, Holy Basil*, Hickory*, Bilberry*, Chaga Mushroom*, Grain Alcohol*  | *Indicates Certified Organic