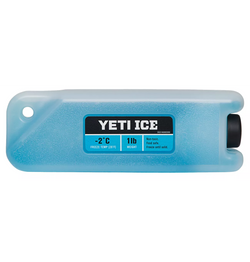 What good is a cooler without ice? Designed by the ultimate cooler company, YETI Ice is the perfect ice pack for coolers. YETI Ice Packs are specifically engineered to keep beverages and food colder longer, and utilizes a unique shape that freezes faster than conventional ice blocks so they re ready to go at a moment s notice.
Not to be outdone by its cooler brethren, YETI ice is impact-resistant, and able to take anything life throws at it. Plus, there s no messy cleanup with YETI ice- Nothing to drain, no cooler to flip. Simply remove the YETI Ice Pack, and pop it into your freezer for the next time.
The YETI 1 lb reusable ice pack is designed to easily fit into a variety of cooler shapes and sizes. You can even combine it with multiple ice packs, larger or smaller, in a variety of configurations for maximum coverage and optimal cooling.