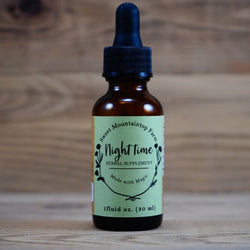 Sweet Mountaintop Night Time Tincture
Tincture blend of Motherwort, western vervain, lemon balm, skullcap, and hops. Made with freshly harvested herbs and organic cane alcohol.



This tincture blend may support sleep, anxiety, and the nervous system.*

1 oz dropper bottle



Herb/menstruum ratio: 1:2 (75% ethanol)



*These statements have not been evaluated by the Food and Drug Administration. This product is not intended to diagnose, cure, treat or prevent any disease.