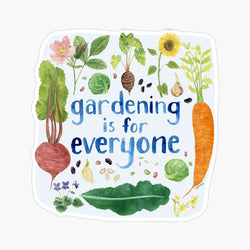 Gardening Is For Everyone - Garden Vinyl Sticker
Celebrate an accessible, diverse and inclusive outdoors with this sticker. This vinyl sticker features watercolor illustrations of garden flowers and vegetables from a variety of regions and cultures, and hand-lettered text reading "gardening is for everyone". 
approximately 3" x 3"

Weatherproof, fade resistant and water resistant

Permanent adhesive

Dishwasher safe.