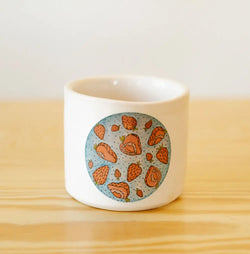 Decal Juice Cup / Strawberry Delight
Lafeyette Avenue Ceramics standard mug all dressed up.
Hand drawn designs are printed onto ceramic decals which are fired on in the kiln. The result is a beautiful, durable, 16oz mug with a charming look.
All mugs have their signature glossy white glaze inside and out and feature a unique decal on the front.
Choose from 3 artist designed themes 4.75 inches tall and 3.25 inches wide.
Since all items are handmade, there may be slight variations in shape, size and glaze color between individual items and from order to order. Exact measurements may vary by 1/4 inch.
All ceramics are food/dishwasher/microwave safe and designed for everyday use in the home.
Made in United States