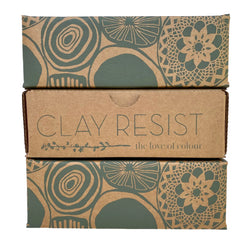 The clay resist kit, which has had a recent surge in popularity - it's batik's cooler, easier cousin - you create a clay paste which you can apply to fabric or garment and it acts as a resist to the dye. Unlike batik, there is no hot or messy wax to deal with, and when you're finished dyeing, you simply rinse the clay paste off with water. The paste can be applied freehand, with stencils, blocks and more, and can be used on fabric, garments and home goods. Complete with detailed instructions aimed at an absolute beginner.
 Ingredients: calcium bentonite clay, gum arabic, magnesium sulphate (epsom salts)
Uniquely formulated to work with indigo only, this kit is best sold alongside the indigo kit.