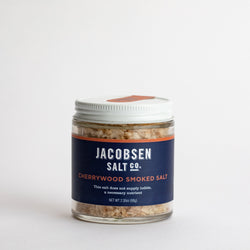 Jacobsen Salt Co. Cherrywood Smoked Sea Salt
Jacobsen flake salt, cold-smoked with Cherrywood until it reaches the pinnacle of smoky perfection. Sprinkle on grilled salmon, salads, or sliced peaches.
Net Wt. 2.46oz (69.7g)
None of our products are certified gluten-free. Even if they do not contain gluten ingredients, we cannot 100% guarantee that they have not come into contact with gluten. We recommend that people who have celiac disease use their discretion when using our salt and honey products.