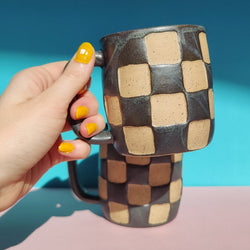 Osso Ceramics Checkerboard Mug
Thrown stoneware mug with matte black glaze on the inside and outside checkers. The checker pattern is stamped in, so the mug has a fun texture as well as pattern. Recessed areas are unglazed. Unglazed areas are a speckled brown clay.
* Made in the USA 
* Dishwasher and microwave safe! Made with love and stoneware clay.

* Each mug is made individually and is unique so stamp placement might vary and color and size variation are possible. I try hard to make everything as similar as possible but they are handmade items and therefore will be one of a kind!