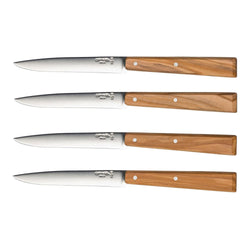 Bon Appétit Steak Knives - Set of 4
Our ever-popular bistro-style steak knives, Bon Appétit, feature riveted wood handles in a range of colors with a non-serrated stainless steel blade that holds a sharp edge!
From southern olive wood to colorful mixed sets, these set of 4 steak knives will brighten up any table setting, and the signature sharp Opinel blade will slice through your meal with ease.
Handwash only. Immersing your knife in water may warp the wooden handle.